When India gained independence in 1947, Jawaharlal Nehru, the first Prime Minister, had a big job ahead of him. The economy was unstable and the state of agriculture couldn't produce the level of food needed for the population. Most people were illiterate and very poor. There was a caste system in place resulting in significant discrimination toward lower castes. Nehru was applauded for passing many social reform bills (like increasing rights for women), helping advance technology and science, and paving the way for rapid industrialization. His initiatives led to improved conditions for the people, but only minimally. Nehru also advocated a socialist style of governance that is argued to have stunted progress. He built an economy in which the state-owned, operated and controlled means of production, while private activity, property rights, and entrepreneurship were discouraged or regulated through permits. Nationalization of economic activity and high taxes were also encouraged. Over the years, with these types of policies, corruption became rampant, which continues to persist today.
How did we get started in India?
India has been a heavily populated country as far back as the 1800's, and continues to experience population growth. It's expected to overtake China's population in 2024. The daunting challenge is how to provide health, education, and employment to that many people, something that has been an ongoing struggle for India. The population sits around 1.3 billion, with estimates of people living below the poverty line anywhere from 20% to 50% of the population! The number all depends on whose measurements you use, but it is likely higher because women, ethnic minorities and members of low-caste groups (e.g. Dalits) do not get counted.
There are many disturbing effects of poverty on people in India. Out of desperation, there is a high number of women who turn to prostitution (estimated to be 3 million), and because it is an accepted way of life (and legal), little is done to help these women to get out of the trade. Besides women, children are also involved in the trade either because a mother has brought their child into it, or because the child was trafficked into it.
Another disturbing effect of poverty is orphaned and abandoned children. There are over 31 million orphans and 11 million abandoned children in India alone. Of the abandoned children, 90% of them are girls because girls do not provide families with the same financial support as boys. They also have costly dowries and end up leaving the family once married.
Global Hope has two ministry partners in India:
Kathryn E Larsen's Children's Home and The John Foundation.
The Kathryn E Larsen's Children's Home (KEL)
The Kathryn E. Larsen Children's Home (KEL) is located in a small town in the state of Andhra Pradesh, which runs along the southeastern coast of India. The Children's Home, which is run by Pastor Zakkariah and his family, is in the middle of a very poor community where children are at high risk of abandonment due to a family's inability to provide basic essential care to their children.
Read more
Since 2012, Global Hope has partnered with KEL to accomplish multiple purposes. It is home to 26 children who are poverty orphans. These children are cared for by Pastor Zakkariah and his family and have become one large extended family. There is a large dining hall where not only these children have their meals, but also where other very poor children in the community can come to have a meal twice a day and receive clothing and basic care necessities. Finally, KEL has a worship center that holds church services throughout the week sharing God's Word with families all around the community. The 26 children cared for at KEL are both girls and boys, aged 6 to 19 years old. They all attend school with dreams about being doctors, teachers, police officers, and engineers. Our hope is that each one has an opportunity to realize those dreams and break through the cycle of poverty!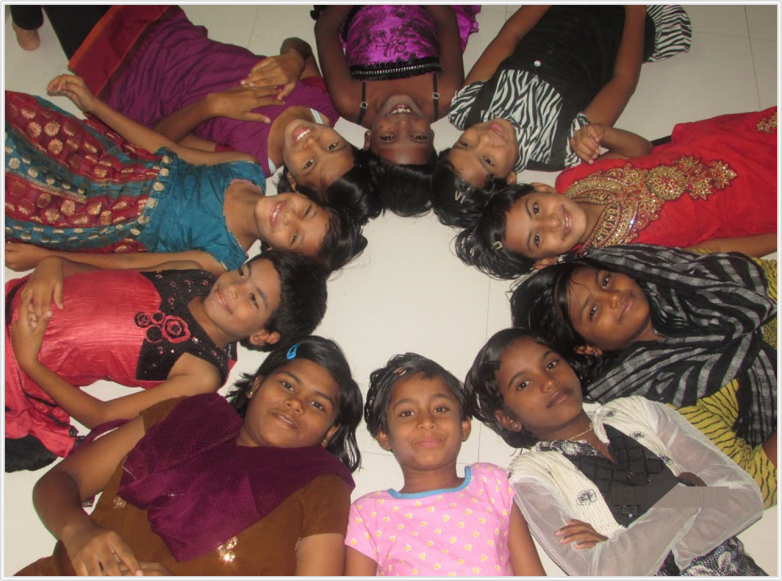 Global Hope supports seven children's homes through the John Foundation. They are located on one campus in Hyderabad, the capital city of Telangana. The campus is designed so that the children can walk to school and play and worship together. They often participate together in Bible studies, summer camps, after-school activities, and church.
Read more
Each home cares for orphaned or semi-orphaned children, or more commonly, children of sex workers. Having a mother in the sex trade is tragic for a child because it means they grow up surrounded by brothels, drugs, and prostitution. At night, some children are drugged and put under the bed while their mothers work the sex trade. Other children get abused by clients of their mother. The homes provide a safe haven and better life away from this environment. Each home has ten children cared for by a Christian house-mom. All the children attend the Johns Academy through grade 9 and then continue in nearby English Medium Schools, they are all encouraged to strive for excellence. In fact, many have won academic awards and sports achievements at their schools.
The seven Global Hope homes include:
Hope Girls' Home, opened in 2013
Hope Boys' Home, opened in 2015
Prema Girls' Home, opened in 2016
Daniel Boys' Home, opened in 2017
Joshua Boys' Home, opened in 2017
Esther Girls' Home, opened in 2021
Ruth Girls' Home, opened in 2022
Reach Out!
We're glad to hear from you and answer any questions you may have.
Working together, we can make a difference!