Imagine cooking meals for 40+ children on a wood burning stove… every day. This is the situation at the Hope for Orphans Rescue Centre (HOREC). They currently cook using 95% firewood and 5% gas.
The cooks have been facing respiratory issues due to prolonged cooking with firewood, we are worried that they may be faced with even more serious problems like asthma, chronic obstructive pulmonary disease (COPD), or lung cancer.
HOREC is requesting $2,600 to upgrade their kitchen equipment.
They will make repairs to the current gas stove — replacement of the copper pipes and replacement of the knobs to ensure they open and close properly.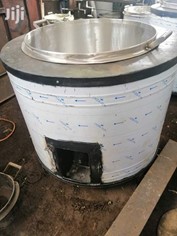 Additionally, they would like to purchase a new Stainless Steel Energy Saving Jiko/Boiler (pictured, right). This Energy Saving Jiko uses firewood, but it uses less wood and holds more heat.
The Jiko/Boiler will be used to boil cereals that consume a lot of gas because of the quantity being prepared.
Any additional funds received over what is needed to purchase the new boiler and repair the current gas stove will be used by HOREC for the much needed replacement of worn cookware and utensils.
The estimated cost of the upgrade is $2,600
Visit our donation page and choose "HOREC Kitchen Stove Upgrade" in the drop-down menu.